Bachelor party in Scheveningen​
Are you looking for a fun activity for a bachelor party in Scheveningen?
Then visit the Indoor Axe Throwing bar and come ax throwing!
Organize an unforgettable bachelorette party in our axe throwing bar
Organizing a bachelor party is fun, but it also involves a lot of planning. After all, you want to plan an original bachelor party where everyone has a good time and which will be talked about for years to come. Whether you're planning a bachelorette party for men or a bachelorette party for women, we have the ultimate activity for your group. Come and throw an axe with us in Scheveningen!
Why axe throwing is the ideal activity for an original bachelor party
An original activity
A sporting activity
Sociability
A relaxed atmosphere
Tension and adrenaline
Clear instructions
A new experience
Bachelor party in Scheveningen
Our indoor Axe Throwing Bar is located on the cozy and popular boulevard of Scheveningen. In our bar we offer space for up to 96 guests who can show their skills on 16 safe courts. We therefore offer plenty of space for a successful bachelor party.
Small & Large Groups
You can book both a shared lane and a private court at Indoor Axe Throwing. You can play with up to 6 people on a single course.
16 Lanes of Fun
Indoor Axes Bar has no fewer than 16 lanes for axe throwing. This allows us to receive up to 96 guests for axe throwing.
For every occasion
Axe Throwing is the ideal outing for birthday parties, company events, bachelor parties and an evening with friends or family.
Extensive explanation
Each session is preceded by an extensive explanation. This way you know exactly how everything works and you become a real axe master!
In America, axe throwing has been extremely popular for years. Competitions and tournaments are even organized in bars. Until recently, this phenomenon was unknown in the Netherlands. Fortunately, you can now experience the excitement and fun of ax throwing in our Indoor Axe Throwing bar in Scheveningen. During a bachelor party you can show your axe throwing skills and experience an unforgettable party.
Axe throwing is a very new activity for most people. That's why we take the time during the bachelor party to teach everyone present the basics of ax throwing. In 15 minutes our lane coaches explain how to throw axes safely and how to become a real expert. Read all about our security measures.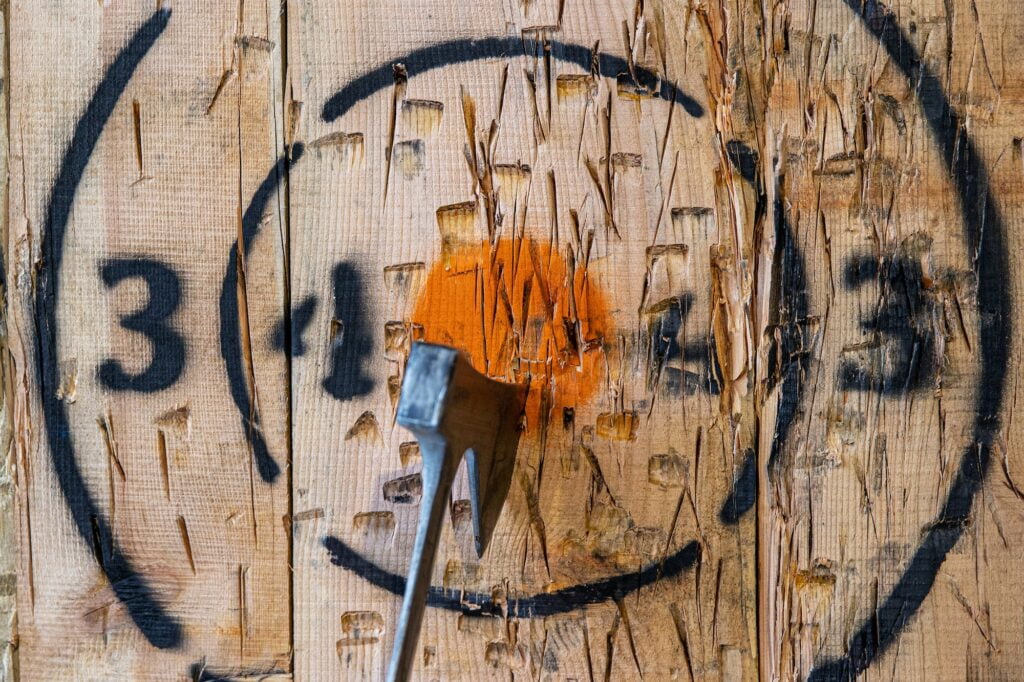 Really great hosts and axe throwing is da best thing ever
Really great hosts and axe throwing is da best thing ever
Really great hosts and axe throwing is da best thing ever